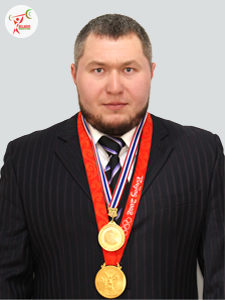 Born 17 April 1988 in the city of Borisov.
Awards and titles:
Honored Master of Sports of the Republic of Belarus.
Progress:
Olympic champion (2008).
World champion (2007).
Silver medalist of the World Championship (2019).
Silver medalist of European championship (2019).
Bronze medalist of European championship (2014).
Best athlete of Belarus (2008, 2019).
short biography:
Aramnov born 17 April 1988 in the city of Borisov. At the age of eight years, I came to a section of weightlifting, where he became the first coach Vladimir Borzdakov. The young athlete became quickly take shape thanks to the perseverance, dedication and hard work. Already in 16-17 years of age he raises the bar, who were not able to do even the adult professional athletes.
AT 2006 18-year-old weightlifter missed a few competitions due to injury. But 2007 year was really a star for the young athlete. Aramnov won the Junior World Championships in the category of up to 105 kg with the sum 407 kg., and became the champion in the adult world championship in weightlifting in the category up 105 kg with the sum 423 kg., setting a world record.
At the Olympics 2008 in Beijing won the gold medal in the category up to 105 kg., establishing for the first time in the history of weightlifting at once 3 world records on the Olympic podium: in the snatch - 200 kg, jerk - 236 kg and the amount of jerk and jolt - 436 kg.
AT 2016 Aramnov year due to multiple injuries was forced to end the career and go to the coaching position. However, in early 2017 athlete of the year announced his intention to return to the sport. At the moment, the athlete actively trains and performs at competitions, to get the opportunity to speak at XXXII Summer Olympics 2020 in Tokyo.
According to the National Olympic Committee of Belarus.